Holiday Events Near Tinley Park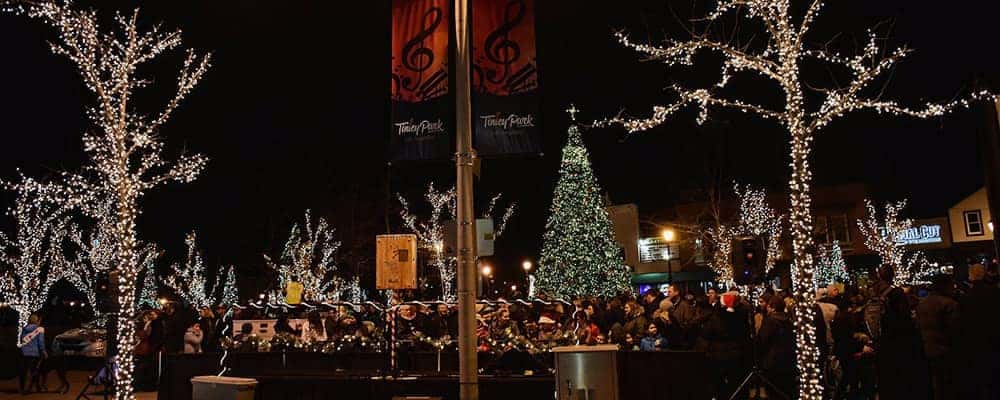 With so many local folks so eager to celebrate the season, it isn't hard to find exciting holiday events near Tinley Park. Whether you're looking for something out of the ordinary, or just want to know what's happening in your community, your neighbors at Bettenhausen CDJR are ready to help. Here are some events to watch out for this year.
More Fun Things to Do in the Area Contact Us
Holiday Lights Tour
Join your neighbors in the Orland Park area for this luxurious guided bus tour of Chicago's Millennium Park, Magnificent Mile, and famous Lincoln Park Zoo Lights. Tours are $25 per person, and will run every weekend evening from November 24th to December 23rd.
"Holiday Happenings" in Tinley Park
Every year, Tinley Park puts together a program of free weekend holiday events at the end of November. This year's celebration starts with a Community Tree Lighting Ceremony at Zabrocki Plaza, starting at 6:00 on November 30th. A charming and well-attended holiday market will run until 9:00 p.m. following the lighting ceremony, and then from 12:00 p.m. to 5:00 p.m. on Saturday and Sunday. You can explore the full program here, or learn more at Tinleypark.org. Over the weekend, you'll have the opportunity to attend a wide variety of different events, including:
A Toyland parade
Old-fashioned carriage rides
Photos with Santa
Carousel Rides
Camp Fires
A Parade of Lights
Make Your Own Gingerbread House
When you sign up for this two-hour long parent-child class, you'll receive a gingerbread house of your own, fully-baked and assembled, as well as all of the icing, sprinkles, and gumdrops that you could want. The event is hosted at Creative Cakes in Tinley Park, and will take place on the 15th and the 21st of December. Tickets, which cover one parent and one child, are available for $50.
Stay in the Know with Bettenhausen CDJR
We hear about exciting upcoming events almost every day here at Bettenhausen CDJR, so our blog is a great place to stay up-to-date on all of the exciting goings-on in your community. While you're here, check out the top five breweries near Tinley Park, things to do to beat those winter blues, or the best wine bars around Naperville. Contact us today to learn more about the community destinations that we love.