How To Tell If You Need New Brakes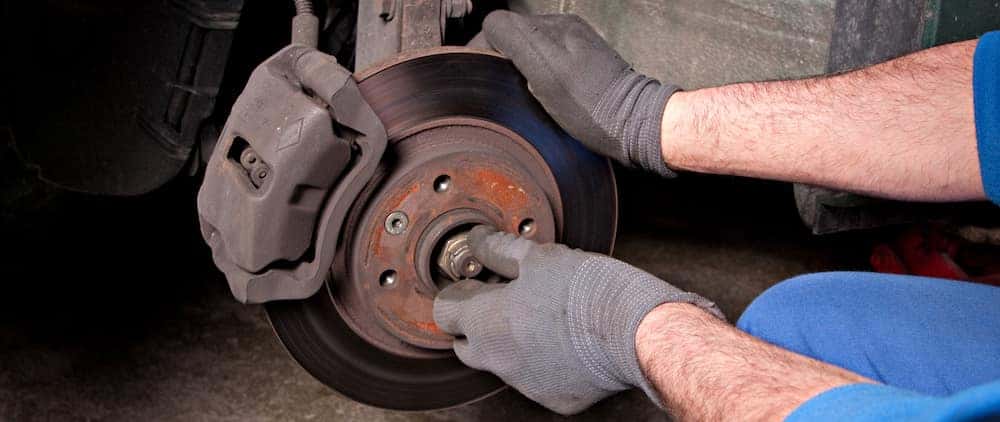 You have a set interval for an oil change, but brakes can wear out at different speeds. Fortunately, it's easy to tell when your vehicle needs new brakes. Our service team knows the ins and outs of Chrysler, Dodge, Jeep, Ram vehicles, and can diagnose brake problems quickly and accurately. Be sure to schedule brake service right away if you notice any of the following red flags during braking:
Squealing or grinding noises
Strange smells
"Pulling" to the left or right
Jutting forward
Vibration in the steering wheel
What Factors Affect Brake Health?
The brake system is your vehicle's most important safety feature; keeping your brakes in good shape could mean the difference between avoiding an accident and footing a hefty bill for post-collision repairs. How often you should change your vehicle's brakes depends on a few factors:
Your driving habits
Environment
Your vehicle's performance profile
Brake pad quality and materials
When in doubt, consult your owner's manual, or speak with one of our certified technicians!
How Often Should You Expect to Replace Your Brakes
Typically, brake pad replacement is needed every 50,000 miles. If you don't drive much and live in a sleepy, more rural area, you may be able to change your brake pads every 75,000 miles—at the most. However, if you live in the middle of Orland Park with plenty of stop-and-go traffic, your vehicle may need new brakes every 25,000 miles. That's where the service team at Bettenhausen CDJR comes in!
Get Expert Brake Service at Bettenhausen CDJR!
Is your vehicle due for scheduled maintenance? Whether you're in need of replacement brake pads, new spark plugs, or any other maintenance or repairs, visit Bettenhausen CDJR today! We're conveniently located in Tinley Park, IL—not far from Mokena and New Lenox. Before you schedule your appointment, don't forget to check out our latest service specials for possible savings!
Our Service Specials
We are currently updating our Specials. Please check back soon.
Recent News From Bettenhausen CDJR
Learn More About the Jeep Wrangler Contact Us The 2021 Jeep Wrangler towing capacity is impressive when you consider everything that it offers. From off-road capabilities in Tinley Park  to an open-air driving experience around Orland Park, the new Jeep Wrangler is a remarkable vehicle. With a max towing capacity of 3,500 pounds in the 4-door…

Want a light truck that's here for you in Orland Park? Look no further than the 2021 RAM 1500. How much can a RAM 1500 tow? You'll have a truck with power to spare in the RAM 1500, with up to 12,750 pounds of towing capacity at your disposal. Whether you're in need of the immense…

Are you interested in driving home a well-appointed 2021 Jeep Grand Cherokee? You will find that you have a whopping nine different Jeep Grand Cherokee configurations to choose from. Each Grand Cherokee configuration differs from the next, with their own unique features, performance, and towing capability. In fact, with so many quality Jeep Grand Cherokee…