Performance vs. Utility: What's the Difference & How to Choose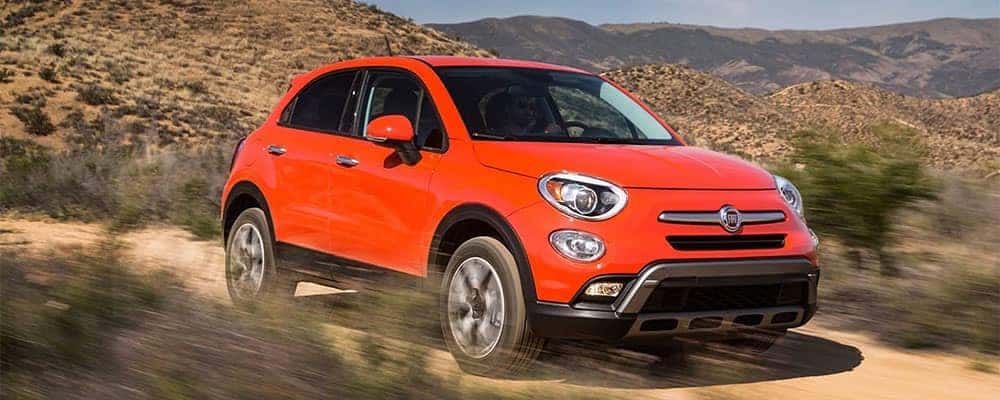 Performance vs. utility – what does it really matter? Quite a lot, as it turns out, especially when you are trying to decide if your next new vehicle should be chasing the redline or able to load up for a weekend camping trip. Take these points into consideration as you learn more:
Horsepower vs. torque
All-wheel/four-wheel drive vs. fuel efficiency
On-road vs. off-road performance
Passenger comfort vs. cargo space
If you're unsure whether to prioritize performance or utility in your new vehicle, whether to go with a FIAT 128 Spider Abarth or the 500X, consider the following points.
Horsepower vs. Torque
It's not a hard and fast rule, but you'll generally find performance-focused vehicles emphasizing horsepower and utility-focused vehicles emphasizing torque.
Here's the difference:
All-Wheel/Four-Wheel Drive vs. Fuel Efficiency
Manufacturers are making their models increasingly efficient, and more are adopting all-wheel drive, but you can still focus on one ahead of the other:
All-Wheel/Four-Wheel Drive: These drivetrains deliver dependable traction across rougher terrain or through tougher weather conditions. You'll also be able to tow more.
Fuel Efficiency: Delivering power to all four wheels means burning more fuel. If you're not going to be covering challenging terrain or weather, focus on two-wheel drive for strong performance and more generous mpg ratings.
On-Road vs. Off-Road
Where will you be driving? It's going to affect plenty.
On-Road: Mostly sticking to cities and highways? A performance-focused vehicle is going to see you enjoying an agile drive.
Off-Road: You'll need different suspension to cope with the demands, plus a host of further additions. Being off-road-capable is the domain of utility vehicles.
Passenger Comfort vs. Cargo Space
Finally, measure up your desire for comfort against your need for cargo space:
Passenger Comfort: Some sport models are rather spartan, but most performance vehicles provide luxury fittings and materials.
Cargo Space: A vehicle with sights set on utility should provide a cavernous cargo area, usually one that can be extended easily into the passenger compartment.
From Performance to Utility: Find What You're Seeking at Bettenhausen CDJR
Whether you need to talk financing, arrange a test drive, or simply find out more about performance vs. utility, the team here at Bettenhausen CDJR is always eager to be of assistance – contact us today in Tinley Park for any further help.
Learn More with Bettenhausen CDJR
The 2020 Jeep Gladiator has evolved the pickup truck world for both truck drivers and Jeep lovers. Many Orland Park drivers searching for a Jeep to suit their needs are asking, 'how much is the Jeep Gladiator?' The Jeep Gladiator MSRP starts at $33,535.Decide between the Gladiator's capable trim levels, like the Jeep Gladiator Rubicon price….

Part of the fun of owning a Jeep Wrangler comes from accessorizing it to fit your needs. From improving comfort for daily driving to high-tech sports gear, accessories for the Jeep Wrangler help you make a Wrangler suited to your style in Orland Park. That's why there's a huge variety of accessories for the Wrangler. Take…

Tinley Park drivers in the market for a versatile vehicle that provides an upgraded weekday commute as well as capabilities to tackle weekend adventures will certainly consider the Jeep Grand Cherokee. While the Grand Cherokee reputation for spirited outdoor drives complete with impressive towing capability is well known, we'll take a closer look at the impressive…