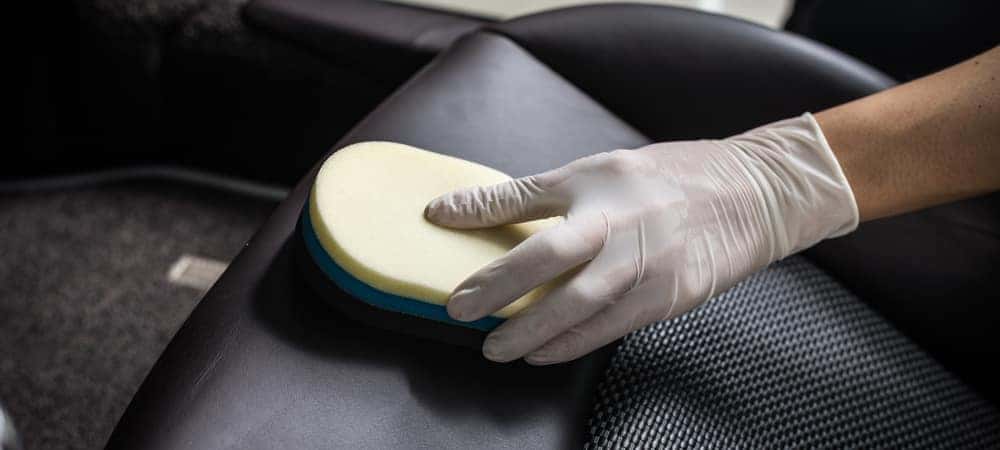 If you are a do-it-yourselfer in Orland Park or Mokena, or you just want to save some money on service, cleaning your car seats at home is simpler than you might think! Follow our step-by-step guide to cleaning your car interior, whether it be leather or fabric, and contact us at Bettenhausen CDJR if you have any questions!
How to Clean Leather Car Seats
Things you'll need:
Leather cleaner, saddle soap, mild leather soap, or 1 part white vinegar/2 parts linseed oil solution
Microfiber towels
Soft-bristled interior brush (NOT a stiff carpet brush)
Instructions:
Check the owner's manual for specific instructions that pertain to your model and what products you should refrain from using.
Vacuum the seats to remove all particles, being careful to not damage the leather. If necessary, use smaller vacuum attachments or an air compressor to get into the nooks and crannies.
Spray the leather cleaner on the microfiber towel and wipe the seats clean.
Spray cleaner onto the seats and gently scrub the surface with the brush.
If you have perforated leather seats, spray onto the soft-bristled brush and apply to the seats.
Wipe the seats with a clean, dry microfiber towel.
How to Clean Fabric Car Seats
Things you'll need:
Fabric cleaning solution spray (do NOT use all-purpose cleaner)
Microfiber towels
Interior brush (soft or medium stiff bristles, NOT a stiff carpet brush)
Instructions:
Vacuum the seats to remove all debris. Use the smaller attachments on your vacuum to get in between each seat and between the seams.
Use a lint roller or pet hair remover attachment if you have excessive pet hair on your seats.
Open the doors/ windows for ventilation, and lightly spritz your fabric cleaning solution onto an area you want to clean. Do not saturate the fabric.
Use the brush to massage the cleaning solution into the fabric.
Once suds begin to form, wipe them out of the fabric with the microfiber towel.
Be sure to wipe down the surface before the solution dries, otherwise, the dirt will be absorbed into the fabric again. Continue this process until the area is clean, then move on to the next section until you are satisfied with the condition of your seats.
Vacuum the seats once more to accelerate the drying process. Let the seats finish drying before using the car.
Alternatives to Fabric Cleaner
Laundry Detergent: Use a mixture of hot water and laundry detergent, applying with a sponge or a spray bottle. Next, use cold water on a clean microfiber cloth to wipe away the dirt.
Vinegar: Combine 1 cup of vinegar, a gallon of hot water, and a few drops of dish soap. Use the interior brush and dab the solution onto the seats. Use a clean microfiber towel and water to remove dirt.
Baking Soda: Mix ¼ cup of baking soda and 1 cup of warm water and apply with a toothbrush onto set-in stains. Let the solution soak for 30 minutes, and blot with a clean towel until the stain is lifted.
Club Soda: Fill a spray bottle with club soda and spritz onto the fabric of your seats, then use the brush to scrub out any stains. Use a clean microfiber cloth to wipe away the moisture and dirt.
Keep Your Vehicle in Top Shape at Bettenhausen CDJR
For more car care tips, like how to check your transmission fluid and how often you should rotate your tires, let the experts at Bettenhausen CDJR teach you! And if you don't have the time to take care of your car on your own, then schedule a service appointment with our Tinley Park-located service center.
More From Bettenhausen CDJR
If you are a do-it-yourselfer in Orland Park or Mokena, or you just want to save some money on service, cleaning your car seats at home is simpler than you might think! Follow our step-by-step guide to cleaning your car interior, whether it be leather or fabric, and contact us at Bettenhausen CDJR if you have any…

Knowing how to check your transmission fluid makes the process quick, easy, and pain-free! Follow these steps to stop maintenance issues before they become serious problems: Turn the car on and warm up the engine to get the transmission fluid circulating. Locate the transmission fluid dipstick. On most front-wheel drive cars, you'll find it just…

For most vehicles, tires should be rotated every 5,000 to 7,500 miles. While this is a good base interval, for exact figures on your model you should always check your owner's manual. Still want to know more about tire rotation? Read through this simple guide from the folks at Bettenhausen CDJR, your Orland Park-area trusted service center. Schedule…