How to Check Your Transmission Fluid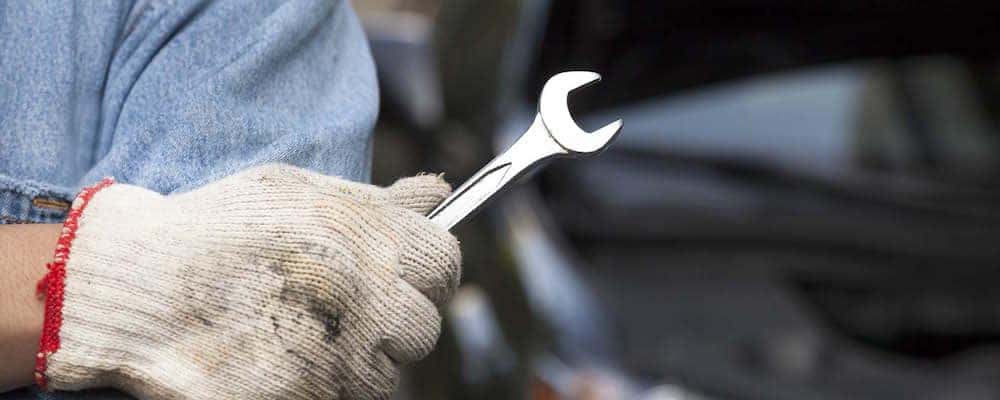 Knowing how to check your transmission fluid makes the process quick, easy, and pain-free! Follow these steps to stop maintenance issues before they become serious problems:
Turn the car on and warm up the engine to get the transmission fluid circulating.
Locate the transmission fluid dipstick. On most front-wheel drive cars, you'll find it just to the right of the oil dipstick. Every vehicle is different, so check your owner's manual or consult an expert if you can't find it right away.
Remove the dipstick and take the fluid between your thumb and forefinger. If the fluid is clear, with a pink hue, it's still usable. If it smells burnt or looks dirty, it's a good idea to take it into a Tinley Park service center for a full replacement right away.
Now that you've checked the consistency, it's time to check the transmission fluid level. Wipe off the dipstick with a rag and reinsert it into the vehicle. Retract it once more, and locate the dipstick's "Full" marking. If the fluid doesn't rise to the marker, you'll need to add more.
Use a funnel to carefully bring the fluid level up to full. Check your levels several times as you go, as adding too much fluid can be just as dangerous as driving on too little!
If you run into trouble, have questions, or just want to get the opinion of a trained expert, check with the team at Bettenhausen CDJR.
How Often Do You Check Your Transmission Fluid?
In order to enjoy the best possible performance on the roads of Mokena and New Lenox, you'll want to check your transmission fluid levels monthly. When you do so, it's a good idea to check on all of your vehicle's most important fluids, including power steering fluid and engine oil. Check your owner's manual for recommendations specific to your vehicle.
Transmission Fluid Basics
Vehicles are some of the most complex machines that we interact with, and the transmission is one of the most complex parts within them! Explore these tips before getting your hands dirty:
There are many different types of transmission fluid, corresponding to the many different makes, models, and transmissions on the market today. Your owner's manual can tell you the right fluid to purchase for your vehicle.
In order to check the fluid levels in a vehicle with a manual transmission, you'll need a jack to access a plug on the underside of the car. If you're located near Orland Park or Joliet, you're better off bringing the vehicle into our service center.
If you're having trouble shifting gears, low transmission fluid could be the problem, but it isn't always the cause. Check the fluid levels as soon as you can, but be prepared to schedule service if this isn't the issue.
It's a good idea to perform a full transmission fluid replacement every 50,000 to 100,000 miles. Of course, the precise interval will vary depending on your driving habits, the conditions you face, and the type of transmission in your vehicle. Check your owner's manual or consult a local expert for a more precise estimate.
Learn More About How to Check Your Transmission Fluid at Bettenhausen CDJR
Here at the Bettenhausen CDJR service center, we're always happy to help our friends and neighbors with everything from yearly maintenance to car cleaning tips. And we offer a wide selection of rotating Mopar specials and Tinley Park auto service coupons so you can get the necessary vehicle maintenance you need, for less! Contact us at 708-580-7103 or stop into our showroom today.
Service Specials at Bettenhausen CDJR
We are currently updating our Specials. Please check back soon.
More Service Tips From Bettenhausen CDJR
If you are a do-it-yourselfer in Orland Park or Mokena, or you just want to save some money on service, cleaning your car seats at home is simpler than you might think! Follow our step-by-step guide to cleaning your car interior, whether it be leather or fabric, and contact us at Bettenhausen CDJR if you have any…

Knowing how to check your transmission fluid makes the process quick, easy, and pain-free! Follow these steps to stop maintenance issues before they become serious problems: Turn the car on and warm up the engine to get the transmission fluid circulating. Locate the transmission fluid dipstick. On most front-wheel drive cars, you'll find it just…

For most vehicles, tires should be rotated every 5,000 to 7,500 miles. While this is a good base interval, for exact figures on your model you should always check your owner's manual. Still want to know more about tire rotation? Read through this simple guide from the folks at Bettenhausen CDJR, your Orland Park-area trusted service center. Schedule…