Why is My Car Leaking?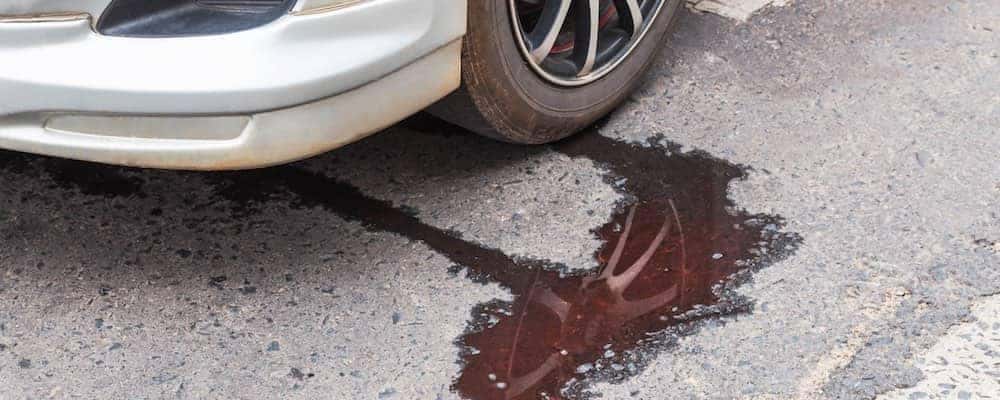 If you've noticed that your vehicle is leaking while you're driving around New Lenox, you probably have two questions on your mind: One, why is your car leaking? And two, what exactly is leaking from it? Our service team is here to share to answer these questions for you today.
Check the Fluid Color
The fluid color will tell you a lot about what exactly is going on with your vehicle. If you can't easily determine the fluid color on the ground, use a white paper towel or cloth to soak a little up so you can check. Make sure to wash your hands afterward!
What the Fluid Colors Mean
Pink/Red Fluid: If you see pink or red fluid leaking from your car, don't worry. It's likely either power steering fluid or transmission fluid. Our highly-qualified technicians at Bettenhausen CDJR can help diagnose whether the problem affects the transmission or power steering system.
Dark Brown Fluid: Dark brown fluid typically involves issues with either brake fluid or motor oil. Motor oil turns dark brown and becomes more viscous after a significant amount of time. Either of these issues can result in potentially life-threatening problems, so be sure to take your vehicle into a service center as soon as you notice dark brown fluid.
Light Brown Fluid: Typically, light brown fluid indicates either motor oil or gear lubricant. The way you can tell is that gear lubricant has a significant odor, while motor oil only smells if it is on fire.
Green Fluid: The presence of green fluid is usually a clear indication of antifreeze leaks. This problem is often caused by loose hoses or clamps. Make sure you're using the right antifreeze by checking your owner's manual.
Blue Fluid: Blue fluid is 99.9% of the time windshield wiper fluid. This is an easy fix as our Tinley Park technicians can quickly identify leaking components and patch the system up to ensure it does not continue to leak.
Clear Fluid: Fortunately, clear fluid leaks are nothing to be worried about: Your vehicle's air conditioning system is working properly, and the fluid you've noticed is simply condensation emitted from this system.
Get Great Deals on Service at Bettenhausen CDJR
Whether you're looking for an affordable oil change or other maintenance work, Bettenhausen CDJR is here to help with great deals on affordable service performed by highly-qualified technicians. Schedule service today to get started!
More from Bettenhausen CDJR
The 2020 Jeep Gladiator has evolved the pickup truck world for both truck drivers and Jeep lovers. Many Orland Park drivers searching for a Jeep to suit their needs are asking, 'how much is the Jeep Gladiator?' The Jeep Gladiator MSRP starts at $33,535.Decide between the Gladiator's capable trim levels, like the Jeep Gladiator Rubicon price….

Part of the fun of owning a Jeep Wrangler comes from accessorizing it to fit your needs. From improving comfort for daily driving to high-tech sports gear, accessories for the Jeep Wrangler help you make a Wrangler suited to your style in Orland Park. That's why there's a huge variety of accessories for the Wrangler. Take…

Tinley Park drivers in the market for a versatile vehicle that provides an upgraded weekday commute as well as capabilities to tackle weekend adventures will certainly consider the Jeep Grand Cherokee. While the Grand Cherokee reputation for spirited outdoor drives complete with impressive towing capability is well known, we'll take a closer look at the impressive…